Written by Michelle Ries
When North Carolinians have an urgent social service need, identifying an agency to help meet that need can be daunting. United Way of North Carolina's NC 2-1-1 is a free information and referral system designed to connect North Carolinians in all 100 counties with health, human, and social service organizations to meet housing, food, utility, and physical and mental health care needs.
In our new issue brief, the North Carolina Institute of Medicine, in partnership with United Way of North Carolina and the Division of Aging and Adult Services of the North Carolina Department of Health and Human Services, analyzed the subset of 2-1-1 callers designated as needing "No Wrong Door" services. These callers are defined as older adults and/or individuals with disabilities who need assistance with services to help them remain in their homes and communities, rather than being placed in long-term care facilities or nursing homes.
Between August 2016 and June 2018, there were 11,296 "No Wrong Door" callers presenting 29,689 needs to NC 2-1-1 call specialists. The analysis assesses trends and defining characteristics of "No Wrong Door" calls, with the goal of informing service provision and investment decisions for NC 2-1-1.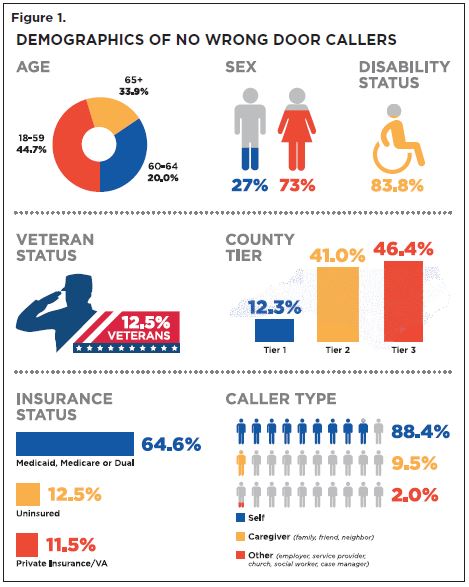 Key findings include:
- Nearly one-half of calls came from Tier 3 (least economically distressed) counties, reflecting higher population and more significant investment by local United Way chapters. Calls per capita were relatively consistent across county Tiers.
- Almost two-thirds of No Wrong Door callers (64.9%) identified basic needs (food, housing, material goods, transportation, utilities) as their primary reason for calling. Housing/shelter was the largest percentage of the calls for basic needs, at 43.1%
- Top 10 counties by number of No Wrong Door calls: Buncombe, Mecklenburg, Cumberland, Guilford, Wake, Forsyth, Henderson, Gaston, Onslow, Durham
Findings suggest that many older adults and people with disabilities in North Carolina face daily struggles to meet their most basic needs, such as housing, food, and utilities. Unmet basic needs can result in a need for higher levels of care, including long-term supports and services. Additional follow-up and analysis of callers' needs would allow analysts to determine whether the assistance provided through NC 2-1-1 for basic needs has an impact on the ability of No Wrong Door callers to access additional services, particularly long-term supports and services.
The experiences of No Wrong Door callers provide insight that can be used to inform the development and maintenance of a robust system of resources to meet the needs of a growing population of aging individuals, sometimes referred to as the "silver tsunami." Failure to adequately prepare for the needs of this population through increased and improved community-based resources may result in additional costs to local and state government and, ultimately, will adversely impact North Carolinians needing these critical services.