View the agenda with session descriptions and speaker biographies here
View data handout here
Need to know the allergy/dietary restriction information for the lunch buffet? Click here
Date: November 14, 2023
Time: 8:00 AM - 4:00 PM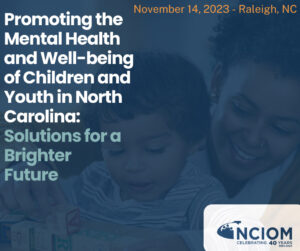 Join colleagues and partners from across the state to network, reflect, and work toward health policy solutions in North Carolina. The 2023 North Carolina Institute of Medicine Annual Meeting, Promoting the Mental Health and Well-being of Children and Youth: Solutions for a Brighter Future, will highlight the factors that influence the health and well-being of our state's children, from social drivers of health to protective supports at the family, individual, and community levels. The 2023 NCIOM Annual Meeting will provide an opportunity to examine the causes of rising prevalence of mental health and substance use issues and encourage innovation in how we care for children, youth, and families in our state.
Sandy Chung, MD, FAAP, the 2023 President of the American Academy of Pediatrics (AAP), will provide the keynote address centered on effective state-level policies that expand access to mental health services and evidence-based prevention. Dr. Sandy Chung has held over 30 state and national leadership positions, including Founder and Medical Director of the Virginia Mental Health Access Program, a statewide initiative that helps healthcare providers take better care of children and adolescents with mental health conditions through provider education and increasing access to child psychiatrists, psychologists, social workers, and care navigators. She is the CEO of Trusted Doctors, a pediatric practice of over 180 clinicians in Virginia, DC, and Maryland, and serves as Medical Director of Informatics at Children's National Hospital's Pediatric Health Network.
The NCIOM Annual Meeting panels will offer a deep dive into prevention, access to physical and mental health care, unique social drivers of health for children and youth, the workforce that cares for this population, and much more. A legislative roundtable featuring state lawmakers will give participants the opportunity to hear from policymakers regarding their priorities for action.
The 2023 NCIOM Annual Meeting will be held on November 14, 2023 from 8:00 am - 4:00 pm at the McKimmon Conference and Training Center in Raleigh, NC, with the presenting sponsor The Duke Endowment. We hope you will join us and leaders across our state for a day of learning, connection, and insights for moving forward on this important health issue.
View the agenda here