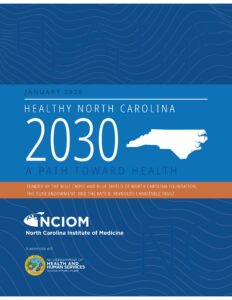 This week, the NCIOM, in partnership with the North Carolina Department of Health and Human Services (NC DHHS), released Healthy North Carolina 2030: A Path Toward Health, the latest set of health indicators and goals that NC DHHS has released at the beginning of each decade since 1990.
HNC is designed to guide state efforts to improve health and well-being by helping NC DHHS, the Division of Public Health (DPH), local health departments, and other partners across the state to work together toward shared goals.
The NCIOM HNC 2030 process integrated input from a task force, work groups, and communities across the state in partnership with NC DHHS. The most exciting aspect of the goals for this coming decade is the integration of a population health framework that considers the factors that impact health status and outcomes - the social and economic context in which we grow up, live, work, and age; the healthy behaviors that those contexts make easier or harder; and our physical environment – along with our access to quality clinical care. This broad view of what impacts health, coupled with a selection of fewer health indicators than in past decades, has led to a list of goals that is unlike any tackled by public health in North Carolina before. Each section of the report includes statewide data, data available across groups based on race/ethnicity, sex, and poverty level, and levers for change. See the table below for information about the health indicators selected.
NC DHHS, DPH, and local health departments will lead the efforts to achieve HNC 2030 goals over the next decade; however, they cannot achieve these goals alone. The inclusion of health indicators traditionally outside the sphere of public health (e.g., reading proficiency, incarceration rates, housing problems, and employment) means that achieving the HNC 2030 goals will require engaging partners across multiple sectors to improve population health and drive health equity over the next decade. The Accountable Care Community (ACC) model supported by a 2018 NCIOM task force seeks to address health from this cross-sector community perspective by bringing together a coalition of stakeholders that share responsibility to address the drivers of health. Read more about the ACC concept in our guide for communities.
The HNC 2030 task force was chaired by Ronny Bell, PhD, MS, Professor and Chair at East Carolina University; Jack Cecil, MIM, President of Biltmore Farms, LLC; Laura Gerald, MD, MPH, President of the Kate B. Reynolds Charitable Trust; and Elizabeth Tilson, MD, MPH, State Health Director & Chief Medical Officer for NC DHHS. They were joined by 44 other task force and steering committee members, as well as four work groups with a total of 107 members. Funding for this work was provided by The Blue Cross and Blue Shield of North Carolina Foundation, The Duke Endowment, and the Kate B. Charitable Trust.
Click on the image below, then zoom to see the health indicators.