North Carolina Health Data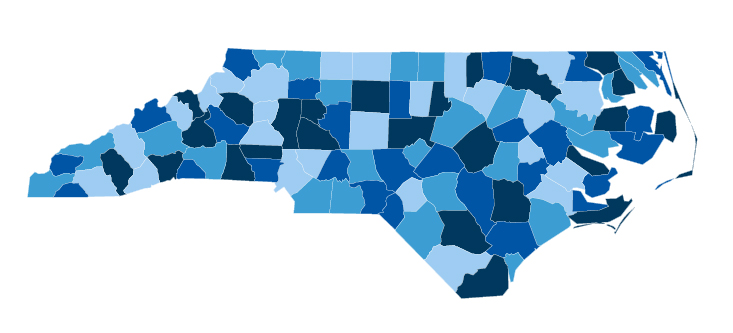 North Carolina County Health Data
Check out the health and well-being of North Carolina's counties using our interactive map providing health data by county, as well as county health profiles for each county. Data include demographics, population, employment, income, health insurance, health care workforce, health care utilization, health status and more.
Uninsured snapshots provide an overview of the uninsured
population in North Carolina. Learn about the characteristics of
the state's uninsured, trends over time, and the factors underlying changes in the number of uninsured.
Health care primers provide non-technical overviews of various parts of the health care system, major stakeholders, and terminology used in health policy discussions in North Carolina.
The North Carolina Child Health Report Card provides data on more than 50 indicators of child health and well-being. Learn about the status of the states 2.3 million children and their families.
Looking for data on health in North Carolina? The Health Data Resource Guide provides links to sources for state and local data.
Running the Numbers is a feature in the NCMJ, co-published by the NCIOM, that looks at current topics in North Carolina health statistics.
Our Publications
Our Task Force reports and other publications provide additional data on a variety of health topics
relevant to North Carolinians.
North Carolina Institute of Medicine
Shaping Policy for a Healthier State
Our Work
Current NCIOM Task Forces and Projects
Our Impact
Informing Health Policy
Publications
Reports, Issue Briefs, and the NCMJ